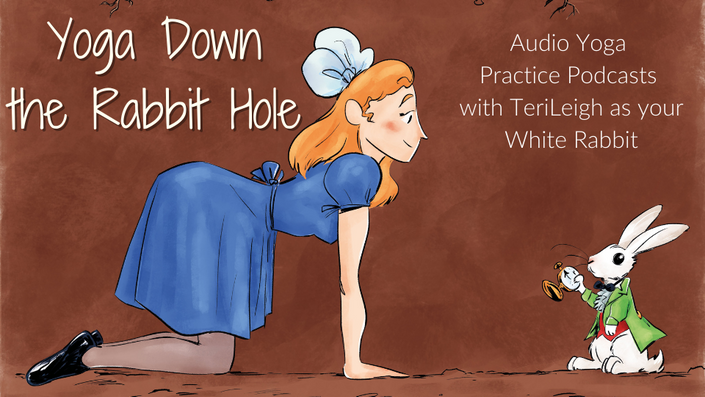 Yoga Wonderland - Down the Rabbit Hole Home Practice Podcasts
300+ Audio Guided Home Yoga Practices
Yes, Please!
Course Description
This series of over 300 yoga podcast practices offer a spiritual insight to practice unlike those offered by any other teachers, and a perfect bridge from the studio to the home mat where you will eventually learn to be your own best teacher.
When you accidentally-on-purpose found yourself in a yoga class, you found yourself following a white rabbit yoga teacher into the twists and turns and tunnels of a world where the mundane became magical. Yoga students across the globe have slid down the slippery slope with arms up screaming "wheeee" all the way through a kaleidoscope of adventures.
Yoga classes are so magical, it's hard to believe that a home practice can be even MORE MAGICAL, and unlocking the tiny door at the bottom of the yoga rabbit hole can be scary because you don't know how to fit your big body through that tiny door.
What's Included in your ALL ACCESS PASS

Over 325 live recorded yoga podcast practices from TeriLeigh's travels nationwide.
Access to ALL TeriLeigh's yoga practice collections (chakras, detox, 40 days, hip openers, etc.)
Bonus content included in all collections such as guided meditations, lectures, and bonus practices
Course Curriculum
Breath - 17 practices
Available in days
days after you enroll
MULA - Grounding, Balance & Stability (Legs, Knees, Feet) - 16 practices
Available in days
days after you enroll
VINI - Pelvis & Hips (Emotional Release) - 32 practices
Available in days
days after you enroll