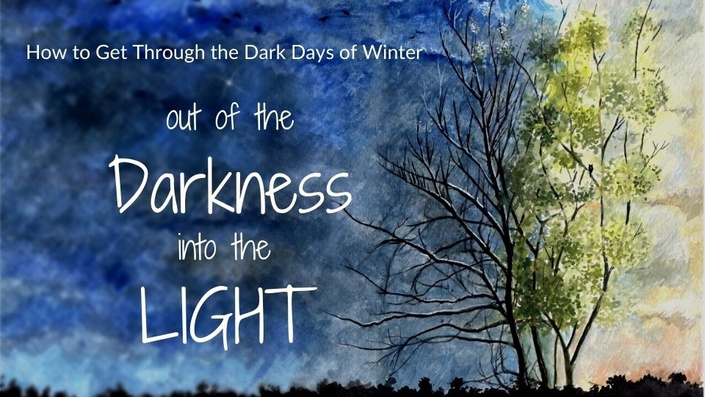 Out of the Darkness ~ Into Light - Full Program
Learn to relish the wonders of winter, and even look forward to it each year.
Treat Seasonal Affective Disorder 100% Naturally
The weeks leading up to the winter solstice are the darkest of the year. When the days get shorter and the sun gets scarce, it's easy to fall into the wintertime blues. Seasonal symptoms of SAD such as disrupted sleep patterns, depressed mood, worry & anxiety, brain fog & confusion, fatigue & exhaustion, aches & pains, can persist for weeks or months, even long after the solstice when the days slowly get longer.
Traditional treatments for anxiety & depression such as pharmaceutical medications and psychotherapy often take weeks or even months to produce benefits. Most SAD sufferers know the feelings will lift by spring, so the just endure.
But why wait until spring?
This four-week program offers simple and practical self-care and mindfulness exercises based in neuroscience. Progressively, over four weeks will you apply mindful affirmations, specific breathing techniques, and self-care healing rituals that trigger your happy hormones, change your brain chemistry, and offer you SAD relief instantly.
This program teaches you:
Feeling Safe in the Darkness
Letting Go
Returning to Your Strength
Opening to the Light
Who Should Take This Course
Empaths and energy sensitives who are especially impacted by the change of seasons
Light-workers and energetic healers
People who suffer from Seasonal Affective Disorder (SAD)
Individuals who experience a depressed mood, especially during the darker winter months
Those challenged by the stay-safe and stay-at-home orders of the corona virus pandemic
People looking for simple non-pharmaceutical ways to address stress and anxiety
Those interested in breathing and meditation practices
Course Curriculum
Introduction (unlocks Nov 30, 2020)
Available in days
days after you enroll
Week 1 - Feeling Safe in the Darkness (unlocks Nov 30, 2020)
Available in days
days after you enroll
Week 2 - Letting Go (unlocks Dec 7, 2020)
Available in days
days after you enroll